Looking to improve your high scores or beat your friends on your favourite games? Then you'll want to invest in one of the best gaming phones 2022 has to offer to ensure you never miss a trick! Gaming phones are strong, durable, and can replicate an immersive gaming experience in your back pocket!
Gaming phones boast super-fast processors, sharp graphics and smooth operating systems to give you just as good a gaming experience as you would have on a computer, laptop or TV.
This guide has curated a list of the best mobiles for gamers, featuring models to suit all budgets. If it's not gaming you want your phone for, then you may also want to check out our guides to the best phones, best cheap phones and best Android phones to find a smartphone that offers everything you need and more.
Right now we're very close to Amazon Prime Day deals for 2022 dropping, and based on empirical evidence of past years' sales, it could be well worth keeping your powder dry for the event as gaming phones are often reduced. That's not to say we don't think you should ring up a gaming phone now if the deal suits you, just that the budget conscious could save even more money by waiting to shop until Prime Day.
The best gaming phones you can buy today in 2022
The Nubia Red Magic 5G really invests in the tech gamers want, and that means as well as a strong all-round hardware spec this phone delivers a 144Hz refresh rate display as well as built in shoulder button triggers.
It's also got a built-in fan and liquid cooling system to keep the phone chilled even when intense gaming sessions are taking place. Vibration is also built in to the handset, meaning that if you want you can feel every shot or crash.
You also get Android 10 out of the box in terms of OS, and there is of course a 5G modem on board as well meaning that if you have a 5G data contract and live in an area with 5G then you're covered.
Want to get even more information about the Nubia Red Magic 5G? Then check out our Nubia Red Magic 5G guide.
There's no doubt that the Asus ROG laptops are some of the best in the business for gamers, and the similarly branded smartphones are doing the business as well. The fifth version of the Republic of Gamers handset brings with it a number of improvements, including a 144Hz refresh rate screen and touch sampling rate of 300Hz, while also keeping everything we liked about the previous model.
This phone is absolutely stacked with power – not only does it come with the very best CPU for Android phones, you can also get it fitted with a whopping 16GB of RAM, which is a crazy amount. You could probably run three games side by side on this without noticing any sort of slowdown.
There's a lot more to like as well, including customisable buttons on the side of the Asus ROG Phone 5 and a dedicated gaming mode in the software to make sure you're always getting maximum performance. The 6.78-inch display is a real highlight too, running at a refresh rate of 144Hz to make sure that the action on screen always looks super-smooth.
The latest handset in Xiaomi's Black Shark gaming line is just as impressive as the first two: it's packed with power and functionality, as well as a host of features that are going to appeal to people wanting a superior portable gaming experience. It's hard to pick a fault in anything the Black Shark 3 offers from a gaming perspective (and there's the Pro version too if you need a bigger screen).
It's not a budget phone, but at a starting price of a little over £500 in the UK, this is very affordable considering what you get for your money – including a top-end Snapdragon 865 processor and an advanced cooling system. The 4720 mAh battery gives you plenty of time between charges as well, even when there are extended gaming sessions involved.
With a generous 6.67-inch display and plenty of RAM, as well as some striking ergonomics, this is undoubtedly one of the best gaming phones at the moment. We also like the official accessories on offer, including the clip-on charger that lets you keep playing while you're juicing up the handset, and the separate gamepad that makes it easier to control games without touching the screen.
Compare this phone to another device from our best gaming phones guide by reading T3's Xiaomi Black Shark 3 vs Nubia Red Magic 5G comparison feature.
To learn even more about this handset be sure to also check out our Xiaomi Black Shark 3 guide.
The standout on this gaming phone, which is Lenovo's first crack at one, is its 90W fast charging. With that on board it means that even after the phone's battery is depleted after intense gaming sessions it takes hardly any time to charge it back to full capacity.
Away from the rapid charging this phone also comes with a strong hardware suite and a pop-up camera, which is quite impressive. It also comes with the tech-du-jour which is a 5G modem. This means you can tap into the low latency and rapid data speeds that 5G offers, allowing for low pings and rapid game downloads.
The 144Hz AMOLED screen is also well worthy of respect, and paired with up to 16GB of RAM, and a powerful Snapdragon and Adreno CPU and GPU combo, this thing crushes any game on the Google Play store.
The design will be divisive and Lenovo isn't known for its phones, but in the Legion Phone Duel it is on to a winner. Well worth considering.
With its extra versatility and more in the way of customisation options, most of the gaming phone attention tends to go to Android, but don't discount iOS completely – with blazing fast processors, powerful graphics performance and tight hardware/software integration, iPhones are also excellent choices when it comes to picking up a mobile gaming handset.
That brings us to the iPhone 12, perhaps the best gaming iPhone of the bunch right now. It has a generous 6.1-inch display, like the iPhone 12 Pro – but as the Pro upgrades are mostly in the camera department, you don't really need to pay the extra if you're focusing on gaming. Of course the super-powerful A14 Bionic processor also makes it ideal for gaming.
From battery life to build quality, there are plenty of reasons to consider the iPhone 12 if you want the best gaming phone money can buy. It's difficult to beat in terms of raw power, you've got a vast choice of games to pick from on iOS (including the Apple Arcade subscription service), and it's going to work seamlessly with any other bits of Apple kit you happen to have set up around the home.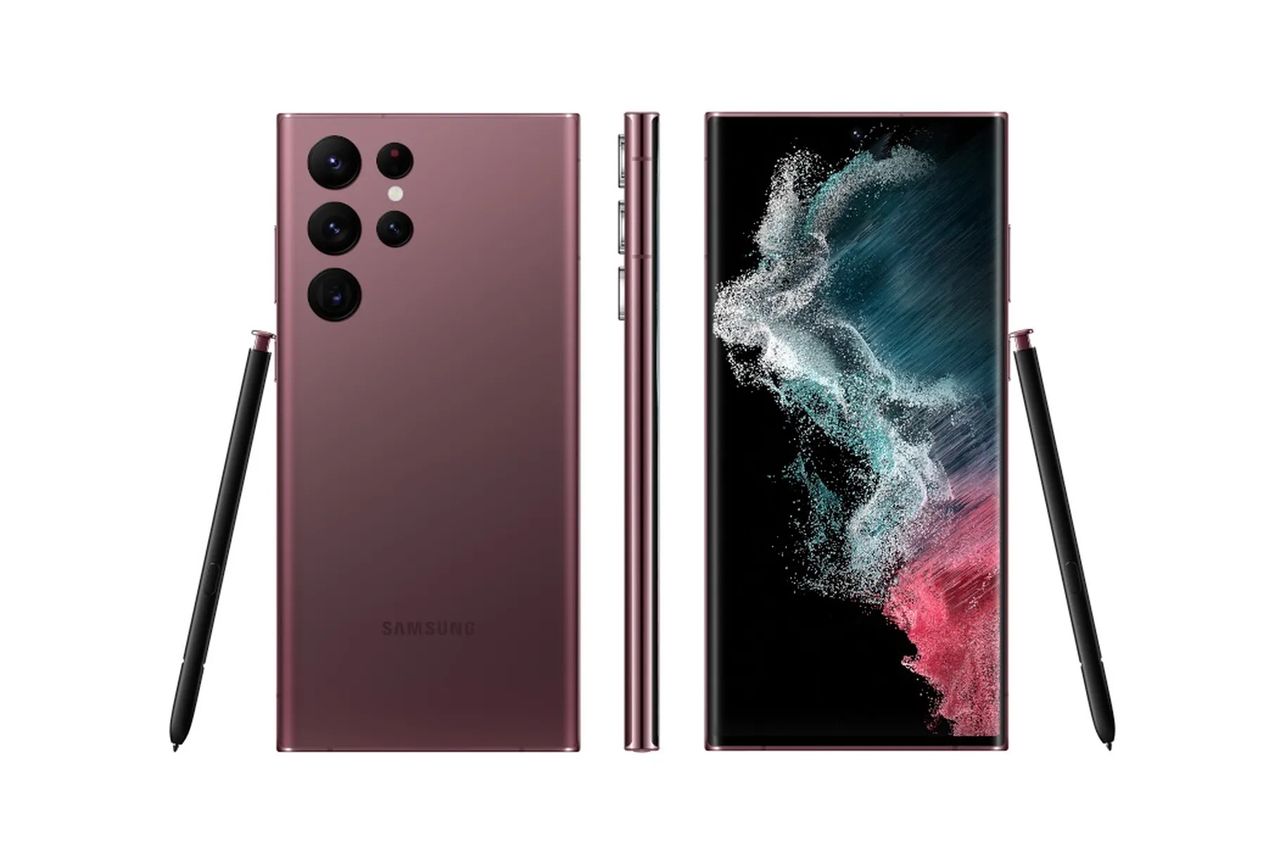 A powerful flagship phone, the Samsung Galaxy S22 Ultra will be great for gaming as well as for using day-to-day. It is expensive though so brace yourself.
Packing the latest 4nm processor (Exynos 2200 in Europe or the Snapdragon 8 Gen 1 elsewhere) with up to 12GB of RAM and up to 1TB of storage, this handset is a beast. It'll cope with any game you could throw at it.
You'll have plenty of screen real-estate to play on too, at 6.8-inches, and graphics will look stunning on it. What's even better is the Adaptive Refresh Rate that automatically adjusts from as low as 1Hz right up to a silky smooth 120Hz depending on what you're using the phone for at the time, which will help to conserve battery life when you aren't gaming. Read more in the Samsung Galaxy S22 Ultra review.
While it may not be the first phone that comes to mind for mobile gaming, the OnePlus 10 Pro is actually a good choice for gamers.
That's because we found that it could quite easily handle most tasks when we put the OnePlus 10 Pro to the test. That'll partly be because of the Snapdragon 8 Gen 1 CPU and the Adreno 730 GPU as well as the fact that you can get up to 12GB of RAM packed in. If you need a bit more muscle, you can actually borrow more RAM from your internal memory as and when you want.
What all of that makes for is a very fast and efficient handset that will cope well with even the most demanding mobile games, like Call of Duty Mobile.
This phone is also very smooth and incredibly responsive to use thanks to the 120Hz refresh rate. And the 6.7-inch screen is big enough to play mobile games comfortably, giving you plenty of room to see the action up close. Graphics also look fantastic on it. Find out more in the OnePlus 10 Pro review.
While the Oppo Find X5 Pro may not be an obvious choice for gamers, it is a good one, especially if you want more than just powerful performance and a good screen.
Of course, it does well in both those areas boasting the latest Qualcomm Snapdragon 8 Gen 1 CPU and an Adreno 730 GPU as well as a 6.7-inch QHD+ 120Hz display - all of which are sure to take your mobile gaming up a notch. But that's not all it has to offer.
The Oppo Find X5 Pro is one of the best phones of the year in every other way too. The ceramic design is stunning, the camera system is fantastic and the battery life will last you for ages.
If you want a well-rounded handset that can cope with mobile games but isn't as clunky as gaming phones can be then this is worth considering. Read more in the Oppo Find X5 Pro review.
The Samsung Galaxy S22 is everything a modern flagship-grade phone should be – it's powerful, has a stunning screen, and is packed with top-class features - but this one is smaller so more pocket-friendly. It should also be very, very good at gaming, with its 8/12GB of RAM, AMD RDNA2 graphics chip and Exynos 2200/Snapdragon 8 Gen 1 processor.
Its screen, which is a 6.1 inch Dynamic AMOLED 2X (120Hz, FHD+) is a beauty, watching anything on it is a dream because colours pop in games and other types of media.
The phone also comes with the very latest version of Android, Android 12, and also offers a very impressive camera system, which includes a triple-lens array on the rear (12 MP, 50MP, 10MP), and a single 10MP selfie camera. Oh, and gamers will also love the fact that downloading and playing mobile games online will be a buttery smooth experience too thanks to the S22 built-in 5G modem.
Overall, a fantastic phone for gaming as well as general usage. Read more in the Samsung Galaxy S22 review.
If you want a smartphone with a slender, smart style but packs a serious punch in gaming performance, the OnePlus 9 will be a great choice.
With a top-of-the-line Qualcomm Snapdragon 888 processor, the choice of 8 or 12GB RAM, as well as 128GB or 256GB of storage, this handset truly delivers on speed. Paired with the 120Hz refresh rate, it had no problems coping with big games. To say that it feels smooth is an understatement, the silky feel can only be fully appreciated in games with frame rates higher than 60fps, like Minecraft. All on a 6.55-inch display that honestly makes mobile games look stunning, with bright vibrant colours and crystal clear graphics.
It also has a handy Pro Gaming mode which blocks out all distractions from other apps, reduces latency, improves app launch speed and increases performance overall. For avid mobile gamers who care about aesthetics, the OnePlus 9 will be a superb choice.
If you're after the very best gaming phone of 2021 then there's a lot to like about the Sony Xperia 1 II: not least that 21:9 aspect ratio, 6.5-inch 4K resolution screen, which means games are going to look vibrant and sharp whether you love space racers or cerebral puzzlers.
Sony has packed all kinds of tech into this phone, including HDR support for the display and Dolby Atmos audio so your gaming (and movie watching) is guaranteed to be as immersive as possible. That Snapdragon 865 processor and up to 12GB of RAM keep games ticking along nicely as well, and new this year is the introduction of 5G to the phone.
Away from gaming, that triple-lens rear camera is capable of some impressive shots while you're out and about, and it comes with Android 10 on board as well – clean and largely free from bloatware so you can get on with your gaming. Definitely worth investigating for your next gaming phone.
Sony makes several Xperia models targeted at gamers. This, the Xperia 5 II, launched in late 2020 and is the official smartphone of the Call of Duty: Mobile World Championship Tournament.
The Xperia 5 II differs from the Xperia 1 II in several key respects. The two phones share the same Snapdragon 865 processor and Adreno 650 GPU but the Xperia 5 II has a slightly smaller screen: 6.1 inches compared to 6.5 inches. Both displays have a very wide 21:9 aspect ratio, but the screen in the Xperia 5 II is FHD+ rather than 4K.
It might be lower resolution than the display in the Xperia 1 II, but it's a heck of a display. It's a Triluminous display with Sony's X-Reality engine, a 120Hz refresh rate and 240Hz blur reduction for silky-smooth on-screen action. You can customise the screen settings for specific games, and it supports 240Hz touch scanning for very precise control.
Although these features are clearly aimed at gamers, this isn't just a gaming phone. That superb display is brilliant for video, and the triple-camera setup delivers impressive results. 5G connectivity is a must-have in a 2021 phone, and Sony's flavour of Android is easy on the eye. All-day battery life and fast (but not wireless) charging complete a very solid package.
The Galaxy Note 20 from Samsung simply isn't messing about, what with its screamingly fast internal components and that huge 6.7-inch OLED screen – any game that you load up on this phone is going to look great and run without even a hint of lag. With 256GB of storage too, you can get a lot of games installed before you're running out of room.
The integrated S Pen stylus is of course the main selling point for the Note series, and it can come in handy in a whole variety of games, as well as for all the other tasks you can use it for (as a remote control for the rear camera, for example). While this is an expensive handset, we think that it justifies the cost.
This gives you more than enough power and space to handle any game that you want to throw at the Galaxy Note 20, and thanks to the high capacity 4,300 mAh battery you should get plenty of gaming done between charges as well. Recommended if you want a top-tier gaming experience.
It's not specifically marketed as a gaming phone, but let's count the ways the OnePlus 9 Pro is one of the best gaming phones of the moment anyway: that giant, 6.7-inch screen, for example, with its curved edges and very small punch hole notch. Turn it sideways and it's perfect for gaming, with virtually no bezels to distract from the gaming action.
Then there's all the power and performance that this phone is capable of, with the latest Snapdragon 888 CPU running inside and 12GB of RAM to ensure that your mobile games absolutely fly along. So fantastic visuals, fantastic performance, and fantastic audio as well, thanks to some very capable stereo speakers.
The OnePlus 9 Pro also stands out due to its 120 Hz display refresh rate (for keeping up with your favourite first-person shooters), as well as an upgraded Gaming Mode to enhance the picture quality and to improve haptic feedback. The Gaming Mode can also block calls and notifications while you're playing, and it's part of an overall OxygenOS software experience that continues to impress.
Overall, then, the OnePlus 9 Pro isn't just the best premium Android phone on the market, but also one of the absolute finest gaming phones, too. And this makes it easy to recommend.
Can't stretch to the cost or the size of the iPhone 12? Apple's smaller, much more affordable iPhone is a brilliant phone for casual gaming: we've just interrupted an epic Pokémon Go session to come in and write this review.
The 4.7" Retina display looks great and the A13 processor, which we previously saw in the iPhone 11, is more than powerful enough for even demanding games – so while the iPhone SE is based on the iPhone 8 it's as powerful and as energy efficient as much more recent flagships. It's super small, super light and super affordable, and that makes it a super buy if you prefer to game on iOS but don't want to buy a bigger, more expensive iPhone.
The Motorola Edge offers large, crisp display and a whole range of great specs that gamers will love. It even has digital trigger buttons under the edge of the screen, for a gaming experience on your phone like no other.
The phone has plenty of storage although this is not expandable, and a very impressive front and rear camera which only adds to the great spec of this smartphone. It's price point isn't too bad for a flagship model, and it's certainly a gamer's idea of a worthwhile investment!
How to choose the right gaming phone for you
There's one really big question you have to ask yourself when buying a gaming phone, and that is do you want a gaming phone with gaming aesthetic and extra features, or just a quality mobile that has buckets of power to play games?
Because the truth is that the vast majority of phones are perfectly capable of playing almost all mobile games with ease, and certainly any mid-tier or flagship phone. You won't find hardly any games in the iPhone App Store or Google Play that can't be run well by most phones made today, as that is very much where these game makers make their money. They want the most people to be able to play their games, so you tend to find very few titles that have any sort of elite demands in terms of power.
As such, unless you specifically want the gamer aesthetic and features like built-in triggers and advanced cooling systems, you're almost certainly best picking up a handset like the Apple iPhone 12 or OnePlus 9 - rapid, powerful handsets that play games really well but also are just great all-round phones.
Basically, though, it's a win-win for gamers looking to buy one of the best gaming phones, as basically whatever they purchase will be able to crush the games that they want to play. It's just down to how much extra spend the gamer is prepared to drop for fancy gamer-focussed features.
Best gaming phones: the T3 difference
The very best gaming phones are technological triumphs. The very best ones combine super-speedy silicon with streamlined software and optimised operating systems to deliver incredibly immersive experiences. They combine all the qualities we love here at T3: design, engineering and innovation – and because games demand so much from your phone it means that you can be sure your new gaming phone is superb at all the everyday stuff too.
As with our best phone guide, we've put this guide together knowing that everybody's different: what's ideal for one kind of gamer or genre might not be ideal for you or the games you want to play. That's why we've covered a wide range of phones here to ensure you can find the perfect gaming buddy.
We've also put together a complete set of T3's authoritative guides based around specific platforms and features, so if you're loyal to a particular brand or need phones with particular characteristics they'll help you discover the best Android phones if that's your preferred phone OS, or the best small phones if your fingers tell you that today's flagships are just a little too big.
We've also curated dedicated phone guides to specific brands, such as the best Samsung phones, and we've rounded up the best wireless chargers to make it easy to keep your phone powered up.
Although the best gaming phones right now aren't folding ones – at least for hardcore gaming – we've also produced a guide to the best foldable phones on the market if you're interested in a larger play area for more casual titles.
The best Black Friday deals could help you get your hands on the best phone for less: every year we see really great deals on some really great gaming phones, so it's wise to keep your eye out for Black Friday bargains: it can be a great way of getting the perfect phone for less.